W-2 Nanny freed from Wage Garnishment and Bank Levy
TaxRise saves client over 98.1%
Somerset, Wisconsin – TaxRise stops the IRS from implementing a bank levy and wage garnishment on newly divorce nanny.  
Joana Ashtree* is a nanny living with her son in Wisconsin. Over the years, Joana had been accumulating tax debt and never had the resources to address the looming problem.
However, after various, financially taxing, and unforeseen events, Joana decided to seek out our help.
Joana's son suffered a serious concussion in 2019 while at college. The injury was so bad that he had to come home from school. The medical expenses were also quite costly.
Later, Joana and her son were living with a family friend, as she did not have enough funds to afford any form of housing. She was fully supporting her son and having to work another job as a pet sitter.  
The final straw would come when Joana's vehicle broke down. The combination of the repairs, plus a new car loan, made Joana realize she was going to need help paying off her now $25,773 debt.
TaxRise's Resolution Strategy
Shortly after TaxRise began working on Joana's case, she received an intent to levy notice from the state of Minnesota. Additionally, the IRS demanded payment and threatened to garnish Joana's wages.
Taxrise immediately negotiated with both the State and the IRS, placing Joana in the cheapest installment agreements available.
Joana temporarily paid $150 to the State and $150 to the IRS, preventing them from placing a levy on her bank account or garnishing her wages.
The installment agreements served as a quick fix and gave us the ability to dedicate all of our attention to Joana's case.
Our tax experts got to work compiling and organizing various documents and files from Joana. The more paperwork Joana gave us, the stronger her case became; eventually, we had enough information to confidentially face the IRS and settle her debt.
Meanwhile, the State and IRS continued to send threatening letters to Joana. We advised her not to negotiate with them and to send us all their letters until our work was complete.
Joana's offer was accepted for $500 – a saving of over 98.1%, and a massive reduction of her original $25,773 liability. Furthermore, she was saved from both a bank levy and a wage garnishment.
See Joana's signed Offer in Compromise Below!
Be the next success story. Take our survey to see if you qualify for the Fresh Start program.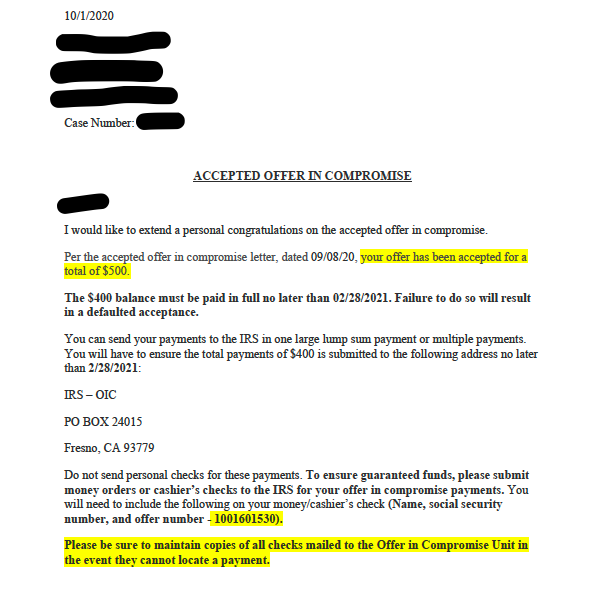 * Client's name changed for privacy.