Unemployed Colorado Divorcé Resolves Wage Garnishment
TaxRise settles debt for 99.6%
Parker, Colorado – Although she was unemployed with years of unfiled taxes, a Colorado divorcé manages to resolve a 25% wage garnishment.
Be the next success story! 
Significant life changes can lead to the accumulation of tax debt. Moving to a new home, getting fired from a job, a chronic medical diagnosis, and – most commonly – divorce.
For our client Sandra*, her tax debt closely correlated with her divorce. After her separation, Sandra was unemployed and hard-pressed for income. She had also not filed her taxes for 2010, 2017, and 2018.
She never got a penny from her ex-husband though she was supposed to get $600 a month. After paying for utilities and groceries, Sandra had nothing left to pay off her mounting debt.
Eventually, her tax debt caught the attention of the State of Colorado, who began garnishing her wages by 25% for approximately $700 a month.
When Sandra came to TaxRise for help, she had amassed $22,250.59 in liabilities to the state and the federal government.
TaxRise's Resolution Strategy
At TaxRise, we always strive to get our client's the best resolution possible. Our tax experts helped Sandra navigate the Fresh Start Program with the hope of achieving an offer in compromise. 
Of course, the IRS doesn't just hand out an offer in compromise to anyone who asks.
To give Sandra the highest chance for success, the TaxRise team helped her file her taxes for 2010, 2017, and 2018. We also provided a detailed explanation of Sandra's situation to the IRS and the State using documentary evidence to prove her income.
Although TaxRise hit a snag in our process, the IRS was confused if Sandra still owed her old property that she had quitclaimed to her ex-husband, we managed to pull through for our client. 
The State of Colorado lifted their wage garnishment, and the IRS agreed to the offer and compromise. Sandra's $22,250.59 total got reduced to $100! TaxRise settled her tax debt for .4% – a saving of over 99.6%!
See Sandra's signed Offer in Compromise Below!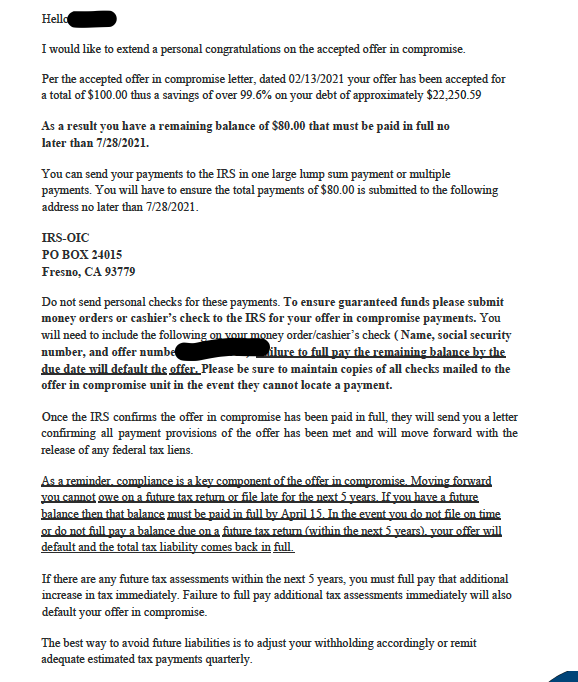 * Client's name changed for privacy.
Take our brief survey to see if you qualify for the Fresh Start Program.